Long Lasting Pool Plaster Finish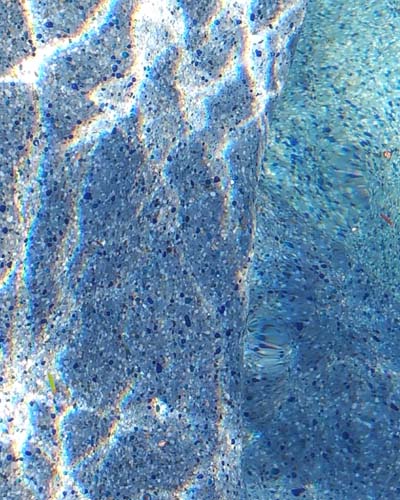 Over time our industry has recognize that by adding small polished pebbles to pool plaster increases the surface life of the pool finish. Additionally, the use of pebbles in the plaster provides uniformity in the color of the finish. Essentially, exposed aggregate surfaces are the combination of various sizes of round polished rocks, plaster, dye packs and in some cases polymer or pozzalan additives to extend the life of the surface.
Once applied, to the pool surface it is then troweled, the cement washed with a mist of water to expose the pebbles, re-troweled or pack by the plasters and repeated with a mist wash. This procedure produces a surface with an array of pebble hues packed tightly exposing an elegant surface that will out last a traditional plaster mix.
Pebble surfaces come in an array of colors to choose from as well as size of pebble and texture. Remember, the larger the pebbles the more textured the surface. The smaller pebbles the smoother the surface. Unless polished with diamond abrasive discs, all pebble finishes do have a textured feel, and depending on your applicators touch, some may have more than others. Always consider the amount of usage to your pool, depth for buoyancy of swimmers, and design when choosing the size of the stone and whether you choose to have it polished. For example you may not want to have a pebble finish in a shallow pool you intend to play volleyball in.
Choosing the right product means more to us that Its' marketing power. Our River Rock and StoneScapes mini pebble contain the right size for maximum smoothness and is diverse for polishing when considered, has many colors and assorted pebbles to choose from, and come in premixed formulas for consistency. Most important both are modified with polymer additives for durability, long lasting strength, and confidence to offer the best warranty program in the industry.
Pebble Tec® is a registered trademark of Pebble Technology, Inc – all rights reserved.