Blends of selected quartz aggregates and fortified white Portland cement ideal for new or remodeled swimming pools. Available in a variety of colors. Diamond Brite® finishes are factory blended to provide the pool owner with an extremely durable and attractive alternative to traditional pool coatings.
Diamond Brite Exposed Aggregate Pool Finishes…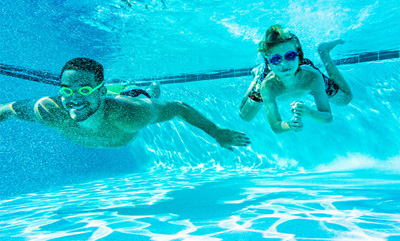 All you add is the perfect setting. There's more to a great pool finish than meets the eye. A great pool finish is durable, comfortable, easily maintained, and pleasing to the eye. Diamond Brite from SGM is all that and more. Diamond Brite combines natural quartz aggregates. polymer-modified cement and non-fading Diamond quartz in a stunning variety of colors. The result is a finish that stands up to the harshest pool environments while providing years of enjoyment.
The lasting beauty and durability of a diamond. Unlike traditional marble-based pool plasters, Diamond Brite is made with natural quartz, one of nature's hardest and purest minerals. Marble aggregates are easily dissolved by pool chemicals causing unsightly etching and rapid deterioration. Diamond Brite's insoluble quartz aggregate is unaffected by the harshest pool chemicals. Also, the Diamond Quartz accent colors won't rust, rub off or fade like other colored aggregates because our coating technology produces a tough, permanently bonded colored aggregate. Finally, state-of-the-art polymer modification of Diamond Brite's cement increases hardness, improves bonding and reduces water penetration. All this adds up to a beautiful yet durable pool finish.
Comfort, safety, security.
You'll have an added sense of security knowing that your pool is comfortable and slip resistant. Because SGM selects quartz aggregates that are smaller than pebble surfaces, the surface is comfortable to bather's feet, And in this age of safety consciousness,
Relax and enjoy.
In developing Diamond Brite, SGM made ease of maintenance a top priority. The impervious quartz used in Diamond Brite resists stains and etching caused by harsh pool chemicals. And, unlike existing pool plasters, Diamond Brite pools can be drained and cleaned without being damaged. Additionally, the accent colors in Diamond Brite give the surface a variegated appearance over time, masking the slight imperfections that are readily apparent in traditional finishes.
Versatility
Diamond Brite offers a selection of tranquil colors that are factory blended to perfection. And if you're so inclined, we can even custom blend our premium finish to express a unique colors. Diamond Brite can help you achieve an environment of tranquility and beauty, sensible practicality and superior longevity.
Advantages
Diamond Brite quartz aggregate has millions of brilliantly colored quartz granules equaling more durability and lasting color. Diamond Brite invokes the richest quartz color mixed all the way through to the bottom of the pool, spa, or fountain. Diamond Brite's colored quartz appearance is enhanced with time.
Warranty
You can rest assured that the highest quality products have been used and is supported by the best warranty program in the industry. It's a sign of our commitment to achieve the highest quality standards in all our swimming pool and spa finishes.
Diamond Brite® Pool Plaster Color Gallery